Throne of Skulls: The Emperor's Tarot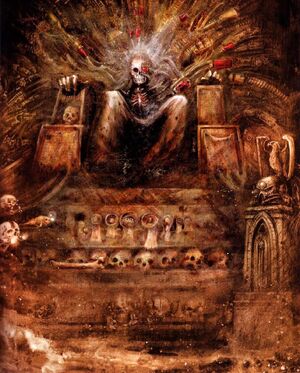 Welcome, fellow Seer, to this most mystical of gatherings, for upon these days of reckoning, we shall be consulting the Emperor's Tarot. A mystical deck of cards, it is said they were first designed by the most venerable Emperor himself, and may be used by those with the correct skills to divine the future.
Only the most powerful and devout of seers may use this hallowed scrying device, as it channels the Emperor's very will and allows the holy diviner a measure of insight into His understanding of future events. 
It is whispered in darker circles that even the witch and the daemon also make use of the Emperor's Tarot, but this is dismissed as the mewlings of weak minds, for the Emperor would surely not countenance his sacred devices to be even touched by such tainted hands. 
This weekend, we offer you the chance to manipulate your very own deck of The Emperor's Tarot as you play exciting games of Warhammer 40,000. Will the cards fall in your favour or will you be damned for all eternity? Only time will tell…
Throne of Skulls
Throne of Skulls is a gaming event all about fun, friendly battles in a relaxed atmosphere. You'll get to play some great games against other like-minded players in the unique atmosphere of the spectacular Warhammer World Event Hall.
No matter whether you're a seasoned player or if this will be your first step into playing our games, the focus for this event is on camaraderie and playing in the spirit of the game; that is to say non-competitive and fair play are the order of the day.

Event Essentials
Date: 18th – 19th February
System: Warhammer 40,000
Army Size: 1,500 points
Number of games: 5
Army Selection: Battle Forged or Unbound (you choose).
Scenarios in use: Maelstrom of War

Publications in use: All Warhammer 40,000 publications from Games Workshop, including Black Library, White Dwarf and Forge World (excluding Horus Heresy publications).
Additional: All models in your collection must be comprised entirely of Games Workshop miniatures and be fully assembled, painted and based. Each model must fully represent what you have presented on your army list, including armour, weapon options, mounts, banners etc.
Included in ticket price:
Food: We will provide lunch for you on both the Saturday and Sunday. Meals are prepared on the day and served fresh in our restaurant. All dietary requirements can be catered for.
Cards: At registration, you will be given your very own deck of Emperor's Tarot cards, specifically designed for this event. More on these later!
General Information
Your will have access to Warhammer World's available general facilities and services, and tickets for the Exhibition Centre can be purchased on the day.
You need to arrange your own travel and accommodation if required.
Event Information: For more information please contact the Warhammer World Events Team on 0115 900 4994 or email them on whworldevents@gwplc.com
For a great experience make sure you're familiar with the Event Pack for this event before you attend the event.